Show only:
DESPOT INFINITUS
Delay in delivery of titles not edited by LELA Presse may occur. Thank you for your patience, ... More titles you are interested in this collection, I can order them. Contact me on contact@avions-bateaux.com or 0032 (0)5.55.31.08.28.
Price: 45.00 € Available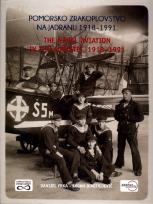 The Naval Aviation in the Adriatic, 1918-1991.
Release of 1/02/2016
DESPOT INFINITUS
In the era of the globalization and social networks, the average users are able to easily access countless historical data from various archives and institutions by pressing a few keys on the... [read more]